Last updated on May 19, 2023
Mujeeb Ahmed Mirza, Missionary, United Kingdom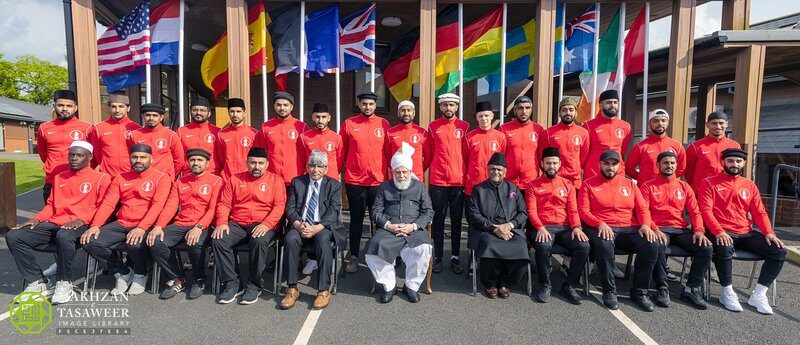 The Majlis-e-Sehat UK was honored to host its first Ahmadiyya International Football Tournament in London, from 11-14 May 2023. Preparations for the tournament began in January, with countries receiving their invitation letters and training Dedicated management. equipment. This team, led by Mirza Abdul Rasheed Sahib, Sadr Majlis-e-Sehat UK, worked tirelessly to ensure the successful execution of the tournament.
The tournament kicked off on May 11 with an opening ceremony and special dinner to warmly welcome all participating teams. The ceremony was presided over by Rafiq Ahmad Hayat Sahib, Amir Jamaat-e-Ahmadiyya UK. This meeting also served to decide the formations of the groups through a draw. The tournament was well represented, with 12 countries and 19 teams participating, culminating in approximately 400 registered players. The names of the teams were as follows:
1. Al Furqan UK
2. Australia
2. Belgium
4. Canada A.
5. Canada B.
6. Fazle Umar UK
7. France
8. Germany A
9. Germany B.
10. Holland
11. Ireland
12. Jamia Canada
13. Jamia Germany
14. Jamia UK
15. PAAMA stars
16. Spain
17. Sweden
18. United Kingdom
19. United States
A total of 30 group stage matches were played from Friday to Saturday night, followed by the start of the knockout stage. This leg comprised seven matches, including the finals held on Sunday at Waverly School, adjacent to Islamabad, UK.
In order to keep up-to-the-minute updates on matches and scores, the organizers used an online application, ensuring everyone was well informed. On Friday, arrangements were made for all the teams to watch Hazrat Khalifatul Masih V's Friday sermon live.AAand offer Jumuah, and some teams had the opportunity to offer Jumuah behind HuzoorAAin Islamabad, UK. The tournament also provided players with the unique opportunity to hear Huzoor's speechAAin the Jamia Ahmadiyya call from the United Kingdom.
The final match took place on Sunday afternoon and was broadcast live on the Majlis-e-Sehat UK YouTube channel courtesy of MTA International. To date, the match has attracted the attention of 9,000 spectators. The "Germany A" team emerged as the victorious winner of the tournament.
One of the highlights of the tournament was the precious opportunity for all the teams to take pictures with the beloved Huzoor.AAa session that took place after the final in Islamabad.
The final session took place after the Asr prayer in Islamabad, which ended the tournament.
Ad Block Test (Because?)