Carlo Ancelotti will coach Brazil at next year's Copa America, says… – The Associated Press
RIO DE JANEIRO (AP) — Brazilian Football Federation president Ednaldo Rodrigues said on Wednesday that Real Madrid coach Carlo Ancelotti will take charge of the national team during next year's Copa America.
Ancelotti has still not publicly confirmed a deal with the five-time World Cup champion. Brazil has never had a full-time foreign coach in charge of its national team. But internal pressure to do so mounted after Tite, hailed by many as the best Brazilian coach of the past decade, failed to perform in the last two editions of the World Cup.
Rodrigues spoke to journalists after introducing Fernando Diniz as Brazil's new coach until July next year in a press conference that raised several questions about Ancelotti's future role.
American striker Mallory Swanson will miss the Women's World Cup in Australia and New Zealand due to a torn tendon in her left knee.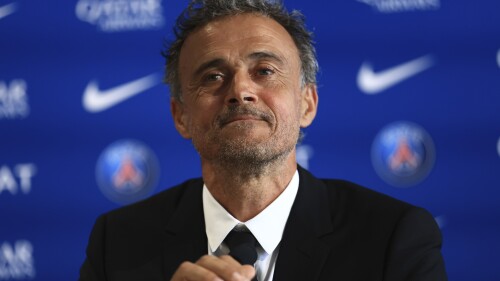 Paris Saint-Germain have fired coach Christophe Galtier after a disappointing season. Former Spain and Barcelona manager Luis Enrique takes over as his successor.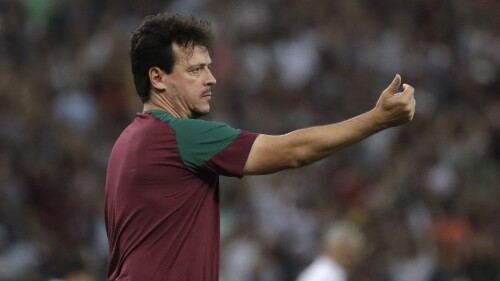 Fernando Diniz has been appointed head coach of the Brazil national team on a 12-month contract which expires when Carlo Ancelotti's deal with Real Madrid expires.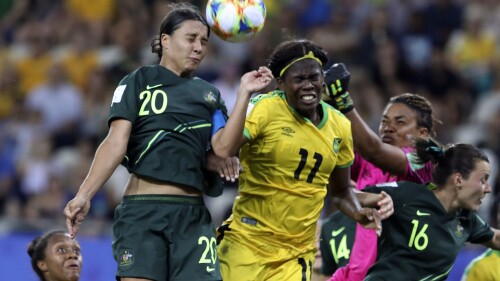 Funding for Jamaica's preparation for the Women's World Cup seemed so uncertain that a player's mother took it upon herself to raise money for the team.
'He will be, he will be. You can be sure of that," Rodrigues said after being asked if he had an agreement with Ancelotti to be Brazil's coach in the 2024 edition of the Copa America. The 64-year-old Italian coach has a contract with Madrid that expires when Diniz's 12-month contract with Brazil expires.
"He (Ancelotti) has already said when he can be here," said Rodrigues, adding that he wants Diniz to work with Ancelotti after the Brazilian's contract expires.
"That's up to Diniz, he takes it one step at a time," said Rodrigues.
Diniz is a favorite among the likes of Neymar and Thiago Silva, who publicly praised him as a potential national team manager before talk of Ancelotti erupted at Brazil's FA.
Executives from the Brazilian Football Federation have indicated that the intention is to wait a season and then bring in Ancelotti to lead the team at the Copa America, which will be played in the United States from June 20 to July 14, and at the 2026 World Cup. .
Asked why Ancelotti has not discussed a deal to coach Brazil until the 2026 World Cup, Rodrigues said: "That's a detail. That's his right, he's the only one who can talk about it."
Ancelotti has won a record four Champions League trophies as a coach – two with AC Milan, two with RealMadrid. He had a good rapport with Brazilian players at Madrid, including Rodrygo, Eder Militao and Vinicius Jr. The latter has become one of the best players in the game under the leadership of Ancelotti.
49-year-old Fluminense coach Diniz will keep his job with the Rio de Janeiro club and will only go to Brazil for the South American World Cup qualifiers. He succeeds Brazilian U-20 team coach Ramon Menezes, who led the team to friendlies on an interim basis this year, losing two of the three games.
Tite, Brazil's previous long-term coach, left the job after a quarter-final loss to Croatia at the 2022 World Cup in Qatar.
During the press conference, Diniz said he had never met Ancelotti and avoided questions about the Italian.
"Ancelotti is a matter for the president, I will speak about my style," said Diniz, who does not have a significant trophy collection but has been praised by Brazilian fans and players alike for his attacking strategies.
"I will reiterate what brought me here," Diniz said in reference to his attacking style, proudly pointing out that he had "the best raw material in the world to execute my ideas."
Diniz was introduced without other coaching staffers in another hint that he will not stay on the job after his contract. But he claimed to have "total freedom" to carry out his duties so far in the eight games – possibly more – Brazil will play until the Copa America begins.
"I talk to a lot of people, I could never do things alone. We'll have CBF staffers, I'll bring some people… we don't rush anything and we don't make mistakes," said Diniz.
Diniz said he is counting on Neymar, 31, to continue playing for Brazil, plus other players, "especially those 25, 26, 27 with World Cup experience on their backs."
Brazil's first game under Diniz is at home on September 7 against Bolivia in the first round of the South American World Cup qualifiers. Until then, Diniz will divide his duties as Fluminense coach in the Copa Libertadores and the Brazilian championship.
Rodrigues said U-20 team coach Menezes is likely to coach the Brazilian team at the Paris Olympics next year.
___
More AP football: https://apnews.com/hub/soccer And https://twitter.com/AP_Sports
Adblock test (Why?)