Southampton fan Rishi Sunak sees his team relegated from the Premier League – Sky News
Southampton fan Rishi Sunak saw his team relegated from the Premier League after a loss to Fulham sealed their fate.
The Prime Minister sat in the stands at St Mary's Stadium on Saturday as he watched the Saints land a devastating blow, cementing their place in the Championship next season after 11 years in the top division.
Southampton lost 2-0 at home to the Cottagers, who on the other hand have had an impressive season.
Mr Sunak switched his usual formal attire for a more casual hoodie and jeans, but Fulham fans still spotted him and chanted: "Rishi, Rishi, what's the score?"
Meanwhile, Fulham itself showed no sympathy for the Prime Minister when the club tweeted: "Sorry, the only Prime Minister we recognize is Hugh Grant."
Born and raised in the port city, Mr Sunak has previously expressed his support for the Saints and once said that if he hadn't been a politician he would have loved to run the club.
When he was 18, he said he received a card signed by the Southampton team, which became "one of his most prized possessions" according to a biography of the British leader.
Meanwhile, his father, Yashvir Sunak, reportedly owned a season ticket for the Saints.
Read more:
Eurovision 2023: Rishi Sunak 'disappointed' over decision to ban Volodymyr Zelenskyy from giving a speech
Former Home Secretary Priti Patel blames 'center of the party' for Conservative local election losses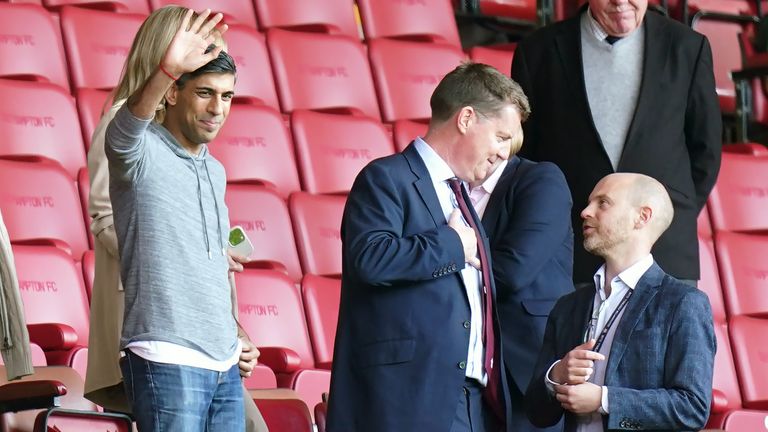 In 2020, Rishi Sunak, who represents the Yorkshire seat of Richmond as an MP, proudly tweeted a screenshot of Southampton briefly at the top of the Premier League table, saying it had taken "32 years but [was] worth the wait" and hoped "it lasts".
Southampton are now only proud to play for in their last two games this season against Brighton and Liverpool.
Adblock test (Why?)